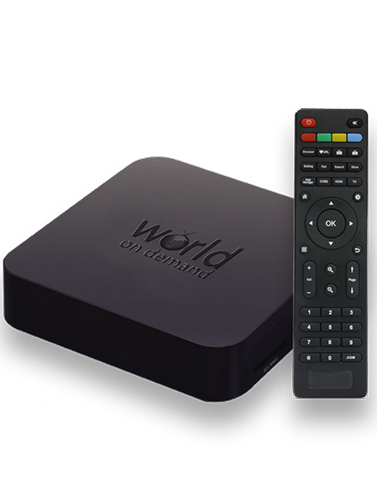 Buy Our Set top Box
Buy our 4K quality, powerful media player and enjoy Live TV, Movies, TV shows and many other features.
BUY
We have created a demo video for you to understand the system
Watch the demo video in order to use the app. Watch Live tv, movies, news, etc. all in one app.
World on Demand is currently available on multiple platforms like Apple TV, Roku, Amazon Fire TV, iOS and Android.
Read More
Features

Movies On Demand

You can watch different genre of movies in this section. You can also parentally lock the movies to maintain privacy. Pay Per View system has been made available.

Live TV / Catchup TV

This feature allows users to watch TV channels from different communities. It also provides an Electronic Program Guide (EPG) and Digital Video Recording (DVR) feature.

Kodi

Kodi is a popular media player that allows users to play and view most videos, music, podcasts, and other digital media files from local and network storage media and the internet.

Home Player

This feature allows the user to watch videos, play songs or simply view images through a pendrive or a memory card.

Youtube Plus

This section consist of useful YouTube channels from where people can stay updated to new videos. Multiple YouTube channels can be accessed from here.

TV Shows

This section consist of some YouTube channels and some featured TV shows. This is a Video on Demand service.
Recent Posts
Campaign
fb Posts